House Painting in Oaklyn, New Jersey

---
Call for a FREE Quote
---
Looking for a House Painter in Oaklyn, New Jersey?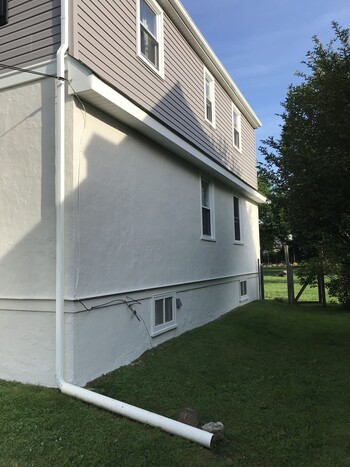 Blue Frog Painting Co., LLC painting contractors provide professional painting services to Oaklyn property owners. Painting Oaklyn homes beautiful for years, Blue Frog Painting Co., LLC has gained a reputation as a trusted company to call for painting in Oaklyn, NJ.
We can handle home painting projects of all sizes. Our experience with Oaklyn exterior house painting, interior painting, trim and molding painting, paint touch ups and drywall repairs is second to none. Give us a call and put our expertise and passion to work. We'd be happy to share a list of satisfied Oaklyn residential painting clients with you.
Oaklyn house painting customers expect reliable and prompt service. Whether for new construction or to spruce up a home for pleasure or sale, Blue Frog Painting Co., LLC provides fast service from dependable painters. Our conscientious staff of painters in Oaklyn work hard to complete house painting projects on time and with minimal disruptions. Your satisfaction is guaranteed.
Available for all sorts of exterior and interior painting in Oaklyn, NJ, Blue Frog Painting Co., LLC offers experience and reliability at a price you can afford. Trust our expert service and call Blue Frog Painting Co., LLC at (267) 277-3922 for your free estimate.
---
Call for FREE House Painting Quote
---
WHAT CUSTOMERS ARE SAYING:
5★★★★★ - "Requested a quote for painting the interior of my home. Blue Frog immediately followed up with the request and made it very easy to get a quote. The owner, Drew, was prompt and friendly throughout the entire process. He and his crew did an AMAZING job. Such a relief to find contractors who are professional, friendly, and reliable! Highly recommended!"

Steve K in Drexel Hill, PA

2022-05-02

5★★★★★ - "They did a great job painting our entire house to get ready to sell! The work was done in two days which was great for our timeline and Drew was very helpful from start to finish and always quick to respond to questions, etc. We hope to work with them again in our new home!"

Steph in Ridley Park, PA

2020-01-02

5★★★★★ - "Attention to detail was so impressive. Great workmanship, fair prices."

Dante Senior, House Painting in Philadelphia, PA

2019-07-11

5★★★★★ - "Blue Frog by far exceeded my expectations. Drew and his staff were reliable, trustworthy, - but ultimately produced an unbelievable product. I received so many compliments from our neighbors and even complete strangers that have seen the "before" and "after" of the house. I would highly recommend them."

Diep

2019-07-10

5★★★★★ - "Great service, great price! My house looks amazing! Would definitely recommend them to everyone!! Thank you!!!"

Britt Starr Silverman, House Painting in Clifton Heights, PA

2019-01-11

5★★★★★ - "Drew and his team were very professional, efficient and did a wonderful job painting our entire home. Their pricing was very affordable which is always key as it allowed us to paint our entire home. They were done within a week, can't ask for a better experience!"

RM in Springfield, PA

2018-08-06

3★★★☆☆ - "Blue Frog painting were professional, courteous, and neat! They provided superior service and painted our house in Manayunk quickly and efficiently. I would use them again and again. Their quote was reasonable and their service was superior!"

Jerri in Manayunk, PA

2018-07-05

5★★★★★ - "Drew and his team were professional and extremely hardworking. He was forthright with the process plan and right on track with the project timeline. 10/10 would recommend and use again should the need ever arise!"

Katherine R., Interior Painting in Camden, NJ

2023-01-17

5★★★★★ - "Drew and his team at Blue Frog Painting did a fantastic job on our deck! I highly recommend them to do all your painting and staining needs! I am beyond thrilled. From the estimate to having the work done, the process from start to finish was seamless. I can't recommend them enough. Drew is even coming back once our deck dries to help us move our furniture back since my husband can't lift anything due to having back surgery."

Ryan and Jamie in Brookhaven, PA

2022-05-26

5★★★★★ - "Drew is amazing along with his dad, Bret. My kitchen and woodwork are beautiful!. I have found my painter for life! Thanks so much."

Jeanine Speicher in Havertown, PA

2022-05-11

5★★★★★ - "My experience with Drew and the team (Nick, Dave) was great from start to finish. I would definitely recommend Blue Frog Painting Co."

Christine

2022-04-25

5★★★★★ - "The painting work was absolutely perfect, the guys were very professional and did a great job!"

LINCY in Broomall, PA

2022-03-31

5★★★★★ - "My experience with Drew and the team at Blue Frog was fantastic from start to finish. Drew was very responsive from the beginning; he provided a quote and schedule information and stuck to the price and schedule.
His team showed up early to prep and patch even before the job started, which I appreciated. On the day of the painting, the team arrived on time and kept the space clean while they worked and also after they were finished.
It's hard to find good, responsive contractors; Blue Frog is the exception! I'd definitely recommend them."

Lisa Scattolini in Ridley Park, PA

2022-03-11

5★★★★★ - "Drew and his crew did a great job. I had most of the interior of my house prepped and trimmed, walls, ceiling, stair tread's and doors painted. The work was done neatly and timely. Would definitely use Blue Frog Painting again and will highly recommend to others."

DGrimes in Ridley Park, PA

2022-03-09

5★★★★★ - "Fantastic job. Drew and his crew did a wonderful job. I will absolutely be calling them again at my next house."

Jackie P in Kennett Square, PA

2022-03-03

5★★★★★ - "Drew and his crew are extremely skilled and professional. They were disciplined in their approach to the work and respectful of our needs throughout the process. The end product is amazing!"

Walt in Media, PA

2022-02-27

5★★★★★ - "Drew and his team did an outstanding job. My husband and I purchased our first home that had wallpaper needing to be removed and the team not only did an amazing job at the removal but the paintwork was also beautiful. We had wood paneling and decided to paint it which exceeded our expectations. We also had our cabinets painted which helped transform our kitchen into what felt like a new place. The team is professional and uses quality materials. Overall, it was an amazing experience with fair pricing, and would highly recommend to anyone."

Irene in Havertown, PA

2021-12-26

5★★★★★ - "The crew was efficient, friendly, and did a professional job. My porch looks great and I have gotten many compliments! Thank you!"

Anonymous

2021-12-06

5★★★★★ - "Excellent, timely work by Blue Frog! Drew was easy to communicate with and got his team in and out in no time. We were very happy with the final product!"

Emilie

2021-11-04

5★★★★★ - "Great service and the cabinets look like new! A team of great guys, very professional and personable. They were always on time, communicative, and detailed. I highly recommend Blue Frog."

Brothers family in Havertown, PA

2021-10-29

5★★★★★ - "Our experience with Blue Frog Painting was wonderful from the moment meeting Drew to the end result. Drew and his crew were very professional and efficient-even in the 90+ degree heat and humidity! They power-washed and painted the exterior of our home in 3 days! Pricing was fair and I would highly recommend Blue Frog for any painting needs!"

Mary in Glen Mills, PA

2021-09-20

5★★★★★ - "Fantastic experience! Enjoyed working with Drew. He is excellent at communication and makes firm commitments. Fair price. The team painted my aluminum siding. Excellent workmanship, clean-up, and the protection of surfaces was great. Respectful team and a very friendly group!"

Dave M

2021-09-16

5★★★★★ - "Drew and his crew had excellent attention to detail, were extremely helpful in sharing their expertise to help us to make the best color decisions, kept the work site neat, and were overall extremely professional and courteous. They also were very reasonable for the work they completed. We really couldn't be happier!"

Kim from Swarthmore

2021-09-03

5★★★★★ - "Drew and his team were outstanding! He was able to fit us in during a very busy time of year for a full interior and kitchen cabinets job, even finishing a day earlier than expected. Drew is easy to communicate with and very professional!"

Sara

2021-07-08

5★★★★★ - "Blue Frog Painting was an overall great experience. The communication and customer service were top-notch. They arrived on time and their work was very clean and professional. They painted fast while paying attention to detail. I will absolutely recommend their services and will use them again in the future."

Anonymous

2021-06-21

5★★★★★ - "Drew and his guys did a great job. They were clean and did everything they promised and everything I asked for.
Great Job!!!"

David Demcher

2021-06-14

5★★★★★ - "Drew and his team did a phenomenal job. Had our entire first floor done and kitchen cabinets all refinished. Feels like a new home at a fraction of the cost for a total kitchen renovation. Highly recommend them and will use them for all future jobs at our house."

Sean O'Hagan

2021-05-24

5★★★★★ - "Had 2 out of 3 painting contractors come to give an estimate on a full house outside paint. The Price was almost the same cost but Drew at Blue Frog gave a breakdown of all the cost.
He gave me a date and said he would contact me prior to starting, and he did. Wow, his company was on time and the most professional contractors I have ever worked with. He went through everything that had to be done and asked what I would like to change at every turn.
They were the best painters or for that matter, the finest I have ever hired to do any work on my house. A CLASS ACT."

D. Higgins

2021-05-11

5★★★★★ - "We had 3 bedrooms fully painted by Drew and his crew. They were professional throughout the process and completed the work in a day. I would use them again as well as recommend them to others."

Bill

2021-04-21

5★★★★★ - "Drew and his team are exceptional. He was on time, completed the job in one day (including ceilings and baseboards) and was most importantly responsible. Drew is a 4th generation painter and brings his dad to help on occasion. Drew is kind and a great listener. We will definitely hire Drew for our next project. His quote was on pointe for our budget. Don't hesitate... Drew is your painter!"

Denise Carmichael

2021-03-22

5★★★★★ - "They did an amazing job patching! Very reliable, great crew, and we love the job they did!"

Leslie B.

2021-03-08

5★★★★★ - "Drew and his team were professional and did an amazing job. We had almost our whole house painted and the crew was quick and clean. Very fairly priced as well. I would recommend them to anyone in the area."

Anonymous in Morton, PA

2021-02-22

5★★★★★ - "The transformation of our kitchen is amazing! Drew and his crew were meticulous in preparing and painting our old wood stained cabinets to a lovely creamy white. From preparation to painting to cleanup, Drew and the team was extremely professional and knowledgeable and the end result was perfect. We highly recommend Blue Frog Painting and will definitely use them in the future."

Scott & Betsy Henderson in West Chester, PA

2021-01-19

5★★★★★ - "Drew and his crew are fantastic and professional. He gave us a fair estimate and completed the painting of my kitchen cabinets faster than expected. We are thrilled with the end result. I highly recommend Drew and his team"

David and Deborah Sokol in Yardley, PA

2021-01-08

5★★★★★ - "My wife and I have been slowly working on renovating our kitchen during Covid. The thought of painting another ceiling was driving me up the wall, so we hired Blue Frog to take care of the last stretch. We worked with a number of contractors over the course of our renovation project and Blue Frog was by far the easiest to work with. They arrived on time for the job, were very flexible and produced high quality work. I was in direct contact with the person doing the work and he was very conscientious/fair minded as well as knowledgeable. Finally, my wife is pregnant, and they were very willing to work with us in order to pick paints that are less toxic as well as following our requests for Covid safety. I highly recommend this company for any painting work!"

Rolf Ritchie in Wilmington, DE

2020-12-10

5★★★★★ - "Drew and his crew arrived on time and got right to work. He kept me informed of their progress throughout the day and they worked very cleanly and efficiently. No mess was left behind, all corners and edging were sharp and clean. The pricing was very reasonable and the quality was fantastic. I highly recommend Blue Frog."

Lee in Brookhaven, PA

2020-11-19

5★★★★★ - "Drew and his team at Blue Frog Painting saved the day! My husband and I were planning to paint our commercial space by ourselves, and realized that it was going to be a bigger job than we thought. Drew's estimate came in right on budget and we're thrilled that we hired them! The space looks great and they finished the job in record time. Drew was friendly and prompt in his communication, and professional from beginning to end. We highly recommend Blue Frog Painting!"

Leslie Capelli in Ardmore, PA

2020-10-23

5★★★★★ - "I had my living room and hallway painted. Drew did a great job prepping the walls which needed a lot of work to make them look good again. His crew was in and out in a day and everything turned out perfect. I'll be using Blue Frog again for future painting projects. Thanks!"

Kevin in Brookhaven, PA

2020-10-23

5★★★★★ - "Drew and his team did an excellent job on the interior rooms of our house. They were on time, finished the job in 2 days, and very professional. We would highly recommend them and will use them again."

Debbie & Tom in Prospect Park, PA

2020-09-23

5★★★★★ - "Drew and his team did an amazing job and are very professional."

Anonymous

2020-09-03

5★★★★★ - "The guys were so professional and quick. We are so happy with our exterior paint job. I will forever recommend their services."

C. Raysor in Swarthmore, PA

2020-08-23

5★★★★★ - "Punctual, excellent paint job, and cleaned up each day. Extremely professional."

Anonymous in Sharon Hill, PA

2020-08-20

5★★★★★ - "We were thrilled with Drew and his team! Very professional and would definitely recommend!!!"

Anonymous in Clarksboro, NJ

2020-07-29

5★★★★★ - "We can't thank Drew and his team enough for the beautiful work they did in our home. They were courteous, clean, and professional in every aspect of the project. We wouldn't hesitate for a second in recommending their services. Thank you again!"

Steve Krasowski

2020-07-15

5★★★★★ - "Drew and his crew did an amazing job! We got the entire house painted in 5 days. If you're looking for professional, neat, clean, and attention to detail call these guys. You won't be disappointed.
Thank you for our home looks beautiful.
We will be calling you for the next project we have."

Jeff B in Ridley, PA

2020-06-22

5★★★★★ - "Excellent work, professional, organized, very neat and friendly. Pricing is great!!!
Highly recommend, you won't regret it."

Joe and Terri in Bridgeport, PA

2020-06-03

5★★★★★ - "We used Drew & his crew at Blue Frog Painting for our interior home painting and we couldn't be happier with the results! Drew was professional, courteous, and helpful throughout the entire process. We had our painting completed just after the construction restriction was lifted during the COVID-19 crisis, and Drew was sure to follow ALL protective guidelines by wearing face masks, shoe covers, and respecting social distancing. Our entire project was completed in one day which, as a Mom of two toddlers, was extremely appreciated! The work was excellent and Drew and his crew was a delight to work with. The attention to detail and cleanliness the crew showed was something you don't see every day. We will most definitely use Blue Frog Painting for future projects!"

Chelsea in Ridley Park, PA

2020-05-21

5★★★★★ - "They did a beautiful job on our master bedroom which needed much TLC. I can't wait to have them back. Prompt, cleaned up everything, and really happy with end result."

Lori Kershaw in Woolwich Township, NJ

2020-03-03

5★★★★★ - "Drew Rankin and his team of painters did a fantastic job painting our house. Drew was professional to work with as were his crew, and his price was reasonable and affordable. Drew and his team completed the painting in a timely manner and our downstairs and hallways look fresh and new. If anyone needs painting done, I would recommend Blue Frog Painting! Drew and his team were trustworthy, and I will use them again should I need painting done.
Celeste Rogers"

Celeste Rogers in Springfield, PA

2020-02-11

5★★★★★ - "Drew and his team were the best! The painting was done on time and the work was impeccable. They are reasonably priced and cleaned up everything. Drew is very nice, I highly recommend them. I'll be using them again in the spring for the upstairs of my house!"

Susan in Sewell, NJ

2020-01-21

5★★★★★ - "Drew is fantastic. I cannot stress enough how professional he is and the pride he takes in his work. We will continue to use him and have already recommended him to family. Our home looks completely new. Thank you to Drew and his team!"

Victor in Swedesboro, NJ

2020-01-06

5★★★★★ - "Fantastic job for a fair price. Extremely professional."

Kim

2019-10-07

5★★★★★ - "Blue-Frog Painting rocks!! Drew painted my old house 2 years ago and did a great job. So when we bought our new house he was the guy I wanted to call. Drew was awesome in his willingness to drive to our new house although it was 45 minutes away. Drew and his crew did a great job painting our house. Drew came out the weekend before our scheduled work to spackle the walls and paint our whole house the following week. Drew and his crew were very careful to minimize any disturbance in the house during the process. We weren't happy with one of the colors we chose and Drew was very accommodating and got it repainted and still finished the job on time. I highly recommend Blue-Frog Painting, we will definitely be calling Drew for any future paint needs! Thanks, Drew and crew!"

Ed and Sue in Souderton, PA

2019-08-19

5★★★★★ - "Good work at a fair price. They showed up on time, completed the work in a timely manner and cleaned up the job site well."

Anonymous

2019-07-29

5★★★★★ - "Most professional and courteous. Thank you!"

Nick Mitchell in Media, PA

2019-07-24

5★★★★★ - "Drew and his crew were on time every day and did a fabulous job. They were also very affordable and reliable. I received an estimate and Drew laid out exactly when he would be able to come to do the job so I was aware of his schedule. This is really important, especially when you have other projects going on as well! Overall I am so happy with the job and would definitely recommend and use them again!"

Angela Oulouhojian, Exterior Painting in Philadelphia, PA

2019-07-11

5★★★★★ - "Such a great experience with Drew and his crew! They were on time every morning and did an incredible job! Would definitely use them again and recommend them to anyone!"

Angela Marie, Painting in Secane, PA

2019-07-11

5★★★★★ - "Blue Frog did a wonderful job painting the entire interior of our home. Drew Rankin, the owner, is a gentleman and delivered in all areas. Clean, neat and on time. I highly recommend him. Beautiful work."

Ken Hungate in Broomall, PA

2019-07-08

5★★★★★ - "Drew is very professional and timely, hard-working and attaches no hidden fees. Blue Frog Painting employs polite and proficient painters. Very good experience. I highly recommend."

Sandra Lastowka in Brookhaven, PA

2019-06-24

5★★★★★ - "Drew and his workers did a great job painting our living room, hallway, railing and all wood work. They were neat and very professional. Job was done in one day and looks great. I will recommend Drew to everyone."

Jim and Karen B. in Havertown, PA

2019-06-19

5★★★★★ - "Drew and his employees were prompt, clean ,fast and professional."

Tina Clair in Morton, PA

2019-06-19

5★★★★★ - "I had my kitchen cabinets painted. The workers were polite, quite and professional. When putting the cabinet doors back, the new hinges did not fit. With some ingenuity, Drew spray painted the old hinges and used them to finish the job. Cabinets look great."

Pat in Wallingford, PA

2019-06-03

5★★★★★ - "So pleased with Drew and his team, they did a fantastic job on our interior. They were prompt, friendly, efficient and clean. I would absolutely hire them again and would definitely recommend!"

Anonymous

2019-04-17

5★★★★★ - "Drew and his crew were on time every day and did a fabulous job. They were also very affordable and reliable. I received an estimate and Drew laid out exactly when he would be able to come to do the job so I was aware of his schedule. This is really important, especially when you have other projects going on as well! Overall I am so happy with the job and would definitely recommend and use them again!"

Angela Carini

2019-04-01

5★★★★★ - "Drew and his employees were on time, courteous, professional, and did a heck of a great job!"

Debbie C in Glenolden, PA

2019-03-27

5★★★★★ - "Awesome job!!! Very professional. I would highly recommend."

Janet Montella in Brookhaven, PA

2019-03-26

5★★★★★ - "Awesome job and very professional. Highly recommend"

Janet Montella in Brookhaven, PA

2019-03-26

5★★★★★ - "Blue Frog was quick to respond to my e-mails/calls for estimates. The work was neat and clean and very affordable!! These guys were polite and easy to work with! I would recommend them for anyone who wants good reliable work!"

Jayne Dortone in Springfield, PA

2019-03-12

5★★★★★ - "We couldn't be happier with the decision to have Drew and his team paint the inside of our house. To start, Drew was on time for every single visit to the house, which is hard to come by these days. He and his team are extremely professional and very friendly. They did a great job, and our walls look fantastic now, and they did it very quick! We will be calling Blue Frog any time we need anything else done in our house for sure."

Phil in Springfield, PA

2018-10-24

5★★★★★ - "Drew and his team just completed painting our home from top to bottom. Literally every room! His crew did such an awesome job and the house looks great! We recently moved into this home and this was by far the smoothest project we've ever experienced. From our initial meeting to the first day of prep, to the final hour Drew kept in constant communication with us explaining what was done each and every day. Also, the timing was perfect (a full house in only 4 days)! We highly recommend Blue Frog for any of your painting needs!"

Tom & Jamie in Havertown, PA

2018-09-17

5★★★★★ - "We contacted Blue Frog Painting after the purchase of our first home. Even though he was booked for weeks, Drew made time to stop by within two days of being contacted, and gave a free estimate after working all day. He is so personable and friendly, and his pricing is very fair. Drew and his crew were able to fit our job in earlier than expected, and they finished everything in a day. They transformed our old peeling doors and door frames into shiny new ones! And the walls look excellent. I couldn't recommend Drew and his team more! I'll definitely be contacting him for any future painting needs. So happy with his work!"

Rachel in Philadelphia, PA

2018-08-30

5★★★★★ - "Called Drew to update my master and my son's room. He came by, gave me a reasonable quote and provided a contact for the needed plasterwork for the areas that needed fixing prior to painting. Drew provided the dates for the job and did the work. I could not be happier with the results, he was on time, neat and very respectful of my home. As long as Drew and Blue Frog are around they will be my ongoing painting company."

Natacha and Gavin in Drexel Hill, PA

2018-08-27

5★★★★★ - "These guys were able to paint my house within one week of initially booking my appointment. They finished my entire first floor plus all of the trim and doors within half of a day. They are very nice, professional, and did a great job with my home! Will definitely be using them in the future"

Matt in Philadelphia, PA

2018-06-20

5★★★★★ - "Drew did an awesome job caulking and painting the outside of my house, and did it at a great price. I'm very happy with his work and would highly recommend him. I will absolutely be calling Drew for any future painting jobs. Thanks Drew!"

Ed D in Secane, PA

2018-04-30

4★★★★☆ - "My project was executed top notch from start to finish ........including great pricing!"

Anonymous

2018-02-19

5★★★★★ - "We hired Drew to paint our living room, dining room, foyer, hallways and stairs ( walls, ceiling, woodwork). Drew was punctual, polite, professional and completed the work in less than 2 days. Our home looks awesome. His prices were reasonable. We will definitely hire Drew again and have already recommended him to family and friends."

Patti And Rob Montella in Brookhaven, PA

2018-01-29

5★★★★★ - "Drew came to my house in Havertown and painted two large rooms in one day. He had some unexpected situations but he handled them professionally and the end result is excellent. I will definitely be using Drew again, and referring him to my friends."

Jackie in Havertown, PA

5★★★★★ - "Drew is punctual, professional, polite, and best of all a great painter. His prices were very reasonable. Him and his crew did great painting my living room, dining room, family room and hallway walls, ceiling and woodwork. Was extremely satisfied and will refer him out to friends and family."

Bob in Wallingford, PA

5★★★★★ - "Drew and his staff are very skilled, knowledgeable, thorough, and polite. The communication regarding the plan, progress, and completion of the job was very much appreciated. I would highly recommend the services of Blue Frog to anyone in the market for painting, and I also look forward to the chance to use them again in the future."

Dominic in Secane, PA

5★★★★★ - "Our experience with Drew was outstanding! He was prompt, friendly, and organized. We are extremely pleased with his skillful work and floored at how he transformed our kitchen cabinets almost overnight! We would absolutely recommend working with him. Thanks Drew!"

Jill in Swarthmore, PA

5★★★★★ - "Drew from Blue Frog Painting was awesome. Very professional. His work is clean and he keeps to his schedule. We will be using him again in the future"

Shawn Cannon in Swarthmore, PA

5★★★★★ - "I would highly recommend Drew for any job. He is very reliable, neat and is very fair in price. His painting job was perfect!"

Dorothea and Larry Ortiz in Sicklerville, NJ

5★★★★★ - "Drew was AWESOME! My husband and I gutted our whole downstairs and was referred to Drew to do all of the painting. We called and he came right over to look at the job! He not only gave us an amazing price, but was so quick to get the job done! I would HIGHLY recommend him and will absolutely use him in the future!!"

Megan Stewart in Newtown Square, PA

5★★★★★ - "Drew did an unbelievable job painting our house! Despite the freezing cold and forecast of snow, Drew made his way over to New Jersey and finished our entire home in just two days. The house looks brand new and totally different thanks to his awesome painting! A wonderful person and a wonderful company. We will never use anyone else!"

Jessica & John in Blackwood, NJ

5★★★★★ - "Drew was great! Courteous, professional and friendly. Provided a quick estimate better than any others received and was able to complete the work quickly. Would recommend 100% and hire again."

Mike C in Glen Mills, PA

5★★★★★ - "Drew is extremely dependable, pleasant and accommodating. He arrived early and was clear with his plans for the day. I would highly recommend him for any job."

T.C. in Springfield, PA

5★★★★★ - "Painting in living room, dining room, stairway and hallway. Can't wait to have the rest of my house done!!!"

Tina and Joe

5 ★★★★★ - "Hey everyone, Drew just finished up several painting projects at my house, and can I say "WOW!"... what a great job! Hey folks, don't support those overpriced, large painting franchises, you will be so happy with Blue Frog"

Lorie Nagle in Mickleton, NJ

5 ★★★★★ - "Drew has done for me on several occasions and he has been excellent to deal with, his pricing is spot on, and his work is tremendous! He is timely in coming out to put together a quote and he shows up on time and is there when he says he will be. The work he does is absolutely flawless and he has consistently gone above and beyond to make sure that each room he paints looks like they would if they were in his home. He is meticulous and a great guy to deal with. I highly recommend him!"

Adam P. in Springfield, PA

5 ★★★★★ - "Professional, clean, on time. reasonable rates. The PERFECT job! Will most highly recommend Drew and use him again."

Norbert in Media, PA

5 ★★★★★ - "We highly recommend Blue Frog Painting.Drew was fast,neat,available and overall very professional and pleasant. We will definitely use his services again!"

Aurélie R. in Wynnewood, PA

5★★★★★ - "I am obsessed with my living room. Drew was amazing! He helped me and talked to me all about shades and colors and even went back to the store twice when I changed my mind and wanted something different. He was so fast and efficient It was shocking. I will definitely use him again!" Katie O. in Woodlyn, PA"

Anonymous in Woodlyn, PA

2016-08-12

5★★★★★ - "Blue Frog Painting refurbished my deck in the spring. It was power washed and stained. Not only were the individual boards cleaned and stained; but also, Drew stained in between every board for a more finished look. I am so pleased with the attention to detail, professionalism and responsiveness that I offer my highest recommendation for Blue Frog Painting" SM S. in Springfield, PA"

Anonymous in Springfield, PA

2016-08-12

5 ★★★★★ - "Drew has literally painted every inch of our 4000 square foot home during our house renovations, over the past 9 months. Drew is a rare find in contractors these days. He is patient, neat, reliable and a true craftsman of his trade. We are so glad we found Drew; highly recommend Blue Frog Painting!"

Mark and Deb Hagemeister in Mullica Hill, NJ

5 ★★★★★ - "Blue Frog Painting Co. painted my 3 story metal fire escape and went above and beyond to make it look brand new. Drew's attention to detail is outstanding. I would refer him to anyone, and would definitely hire Blue Frog again for any painting in the future!"

Meghan in Folsom, PA

5 ★★★★★ - "I just had a deck refinished by Drew. He did an excellent job and I am extremely pleased with the results. He went the extra mile with the prep to get my 14 year old deck looking like brand new.I would highly recommend him and I think that I will have him back to do more painting in the future. Thank you Drew.."

John J Peaschek Jr in Media, PA

5 ★★★★★ - "We hired Blue Frog to do some interior painting as well as stain and seal our deck. I have to say Drew did such an excellent job. Drew was a pleasure to deal with from the start. He was very easy to get ahold of and always got back to me promptly. Our job was scheduled within a very reasonable time and the work was completed in a timely manner. The work that was done at my home was nothing less of excellent. THe paint and stain all looked beautiful. Clean, neat, professional and a pleasure to work with... I highly recommend using Blue Frog for all your painting needs."

Heather L in Newtown Square, PA

5★★★★★ - "Drew Rankin has done both interior and exterior painting for me and I am very satisfied with his work. He is prompt, neat, courteous, capable and aims to please."

Betty Hawanski in Eddystone, PA

2016-05-25

5

★★★★★ - "Drew did an amazing job with our new house! He painted our entire house when we were on a time crunch. Not only was he fast, but his paint job was perfect! We will never ask anyone else to paint out walls unless its Blue Frog! I highly recommend going with them!!!!!!"

John and Courtney Howanski in East Fallowfield Township, PA

5★★★★★ - "I engaged Drew to paint my offices in Media, Delaware County during March, 2016. He was true to his estimate and ended up completing the task in a timely manner. He was clean and neat and there were no paint spills or other conditions that required him to return and I would recommend Drew to anyone who is need of a professional paint job that is clean and neat. He meets all of your expectations. Drew Rankin is a true professional."

Raymond J. Falzone, Jr. in Delaware County

2016-05-16
---
Call for FREE House Painting Quote
---