Interior Wood Trim Installation and Replacement
Wood Moldings | Wainscoting | Window Trim Installation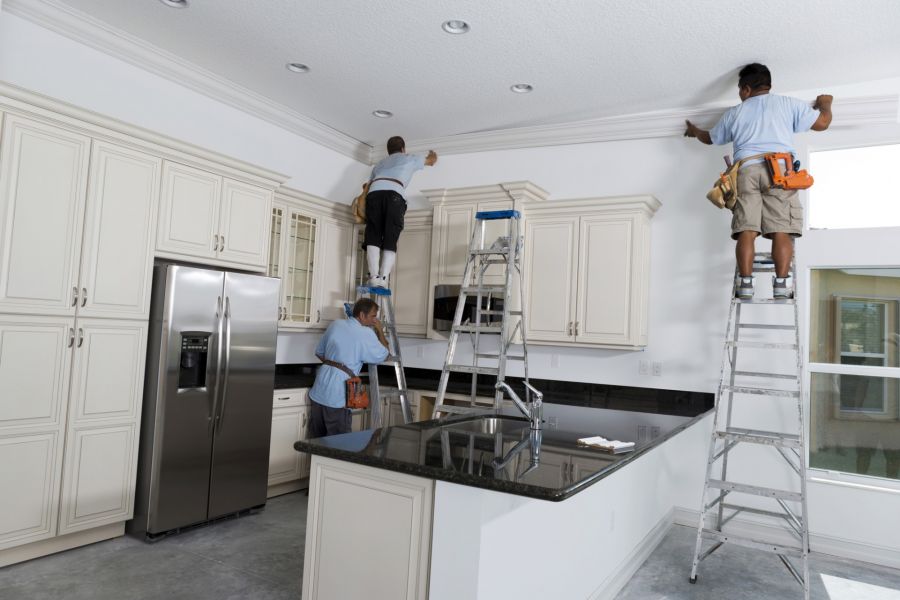 Are you ready to add the final touch to your interior space? Blue Frog Painting Co., LLC specializes in adding crown moldings, baseboards, bead board, and more to area home interiors. Since 2016, Blue Frog Painting Co., LLC's finish carpenters have enhanced area homes by installing and replacing wood trim.
---
Call for a FREE Quote
---
★★★★★
"Drew and his crew did a great job. I had most of the interior of my house prepped and trimmed, walls, ceiling, stair tread's and doors painted. The work was done neatly and timely. Would definitely use Blue Frog Painting again and will highly recommend to others."
D. Grimes
Molding Installation by Blue Frog Painting Co., LLC
Wood moldings are simply strips of wood used to create a clean and attractive transition between surfaces, such as between the ceiling and walls (crown moldings) and walls and the floor (baseboards) or between walls and doors (door trim). Installing wood moldings and trim in your home is more challenging than it looks. Mismatched pieces create the opposite effect of the clean look you're after. Blue Frog Painting Co., LLC offers professional wood trim installation and replacement at an affordable price.
Types of moldings frequently installed by Blue Frog Painting Co., LLC
Crown Moldings
Baseboards
Chair Rails
Bead board
Wainscoting
Window Casings
Door Trim
Benefits of Installing Interior Trim
Blue Frog Painting Co., LLC loves adding that finished look to homes by installing crown molding, decorative trim, bead board, wainscoting, and chair railings. The installation of wood trim adds warmth and elegance to any interior space. Adding wainscoting to the lower half of your bathroom walls adds an element of charm. The finish carpenters at Blue Frog Painting Co., LLC have the expertise, creativity, and skills necessary to transform a plain-looking room into a tasteful, welcoming space. Call (267) 485-5148 to create the perfect atmosphere while adding value to your home.
Blue Frog Painting Co., LLC's trim installation service includes:
Installation or replacement of crown moldings, door casings, and window trim
Installation of handrails and chair rails
Installation of beadboard and wainscoting
Installation and replacement of baseboards and more
Complete surface preparation, including touch-up and wall repair
Woodwork painting and staining
Choose Blue Frog Painting Co., LLC for Woodwork Installation and Replacement
Since 2016, Blue Frog Painting Co., LLC has provided premium light carpentry service at affordable prices. Call Blue Frog Painting Co., LLC at (267) 485-5148 to speak with a representative, to see just how much you can save on your woodwork project. We'll schedule a convenient time to take a look at your project and listen to your ideas. From there, you will receive a free written estimate for labor and materials. Blue Frog Painting Co., LLC stands behind every woodwork project they perform and offer a full satisfaction guarantee to ensure the job is done according to your specifications.
---
Call for Fast FREE Quote
---